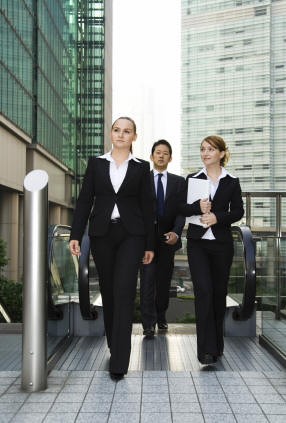 The Following Information is brought to you by Job is Job Canada
THE GOOD
While most companies try to promote an engaged workforce some such as Calgary based WestJet Airlines are truly high flyers when it comes to employee engagement. What follows is a list of the best of the best employers in and around the Calgary area.
THE BEST OF THE BEST
Employers were evaluated by the editors of "Canada's Top 100 Employers" using the same eight criteria as the national competition: (1) Physical Workplace; (2) Work Atmosphere & Social; (3) Health, Financial & Family Benefits; (4) Vacation & Time Off; (5) Employee Communications; (6) Performance Management; (7) Training & Skills Development; and (8) Community Involvement. Employers are compared to other organizations in their field to determine which offers the most progressive and forward-thinking programs.
Agriculture Financial Services Corporation / AFSC
Agrium Inc.
Alberta Blue Cross
Alberta Treasury Branches / ATB Financial
Alberta-Pacific Forest Industries Inc.
AltaGas Ltd.
Associated Engineering Group Ltd.
Athabasca University
Bethany Care Society
BioWare ULC, a division of Electronic Arts Inc.
Calgary Airport Authority, The
Calgary Laboratory Services
Calgary Roman Catholic Separate School District No. 1
Canadian Pacific Railway Ltd. / CPR
Collins Barrow Calgary LLP
City of Calgary, The
Enbridge Inc.
Energy Resources Conservation Board / ERCB
Enmax Corporation
EPCOR Utilities Inc.
First Calgary Savings & Credit Union Ltd.
Focus Corporation Ltd., The
Graham Group Ltd.
Intuit Canada Limited
Medicine Hat, City of
Micralyne Inc.
Midwest Surveys Inc.
National Energy Board
PCL Construction Group Inc.
RedPoint Media Group Inc.
Rogers Insurance Ltd.
Shell Canada Limited
Spruceland Millworks Inc.
Stantec Consulting Inc.
Suncor Energy Inc.
Telus
Taqa North Ltd.
Trican Well Service Ltd.
University of Alberta
Upside Software Inc.
WestJet Airlines Ltd.
Workers' Compensation Board of Alberta
Survey Background
Now entering its fifth year, Alberta's Top Employers is an annual competition organized by the editors of Canada's Top 100 Employers. This special designation recognizes the Alberta employers that lead their industries in offering exceptional places to work.
ARE YOU MOVING TO CALGARY?
All listings are updated every 30 minutes with details of every home and condo for sale in and around Calgary by Diane Kelly a licensed realtor and specialist Calgary real estate agent. You can check online for available Calgary jobs in your career field to get a head start on finding employment before your move. Maybe you'll even end up working for one of Calgary Top 50 Employers!