Anyone can sell your home. What counts is selling it right and for the right price.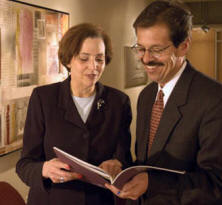 There is a very old saying that states "you get what you pay for." This is very true when it comes to marketing and the real estate industry. Like all industries there is a cost to doing business in real estate. Apart form the ongoing educational requirements real estate agents need to have an in-depth knowledge of their marketplace, exceptional marketing skills, and perhaps most important off all be extremely proficient in the art of price negotiating.
Experience is everything when it comes to ensuring you get the maximum price possible for your property. If your agent is not a strong negotiator, or lacks the marketing expertise to sell your home, guess whose going to end up paying for that inexperience?
Most established real estate agents are aware of the work that's involved in protecting their clients legal and financial interests and charge a fair commission for these services.
Unfortunately, less experienced realtors in an attempt to gain business are often forced to offer reduced services, provide little or no marketing and worst of all have poor price negotiating skills when it comes to dealing with any offers they are luckily enough to come by. All this can end up costing home sellers thousands of dollars in lost revenue, far more than they save by taking the services of a discount realtor.
Diane Kelly is different. As both a licensed realtor and member of the Calgary Real Estate Board. Diane has built up an impressive real estate skill set. A skill set endorsed by her outstanding client testimonials from both buyers and sellers.
To sell your home fast and for top dollar click here

---
---
Copyright © TALKCalgary 2000 - 2010
Photography, & copy writing by Steve Kelly or as credited.
Calgary Real Estate consultant Diane Kelly, Discover Real Estate Ltd,
Real Estate Blog | Realtor Testimonials