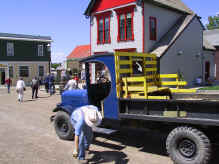 Travel back in time . . . and discover the treasures of Western Canada's past at Heritage Park.
All the sights and sounds of pre- 1914 life are recreated at Canada's largest living historical village.
Heritage Park features over 66 acres of lush parkland, over 150 historical exhibits, thousands of artifacts, and lively interpretive activities. Framed by the majestic Rocky Mountains, surrounded by billowing trees and blue water, Heritage Park beckons to those individuals that want to savour a truly unique western experience.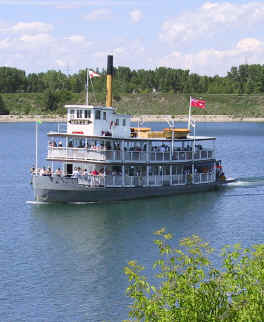 Stroll down relaxing Main Street 1910 and let the aroma of freshly baked bread draw you into the Alberta Bakery. Ride the rails behind a real thundering steam locomotive; board the S.S. Moyie for a steamwheeler cruise on the scenic Glenmore Reservoir; and enjoy the thrills of the antique midway. Ride in a relaxing horse-drawn wagon and journey through a bygone era.
Savour the delicious taste and aroma of a hearty lunch served in the elegant Wainwright Hotel.
Time is on your side as you explore our pioneer past, because at Heritage Park, you'll have the greatest time in history!