Advertisement
Places to go and things to see in Calgary
It is often said that "Calgary is the big city, with a small town atmosphere" Certainly when it comes to recreation, there is no shortage of places to see and go in Calgary. Below are just a few of the things to see in Calgary.
---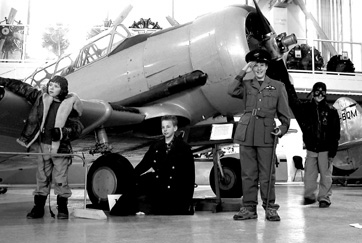 Aero Space Museum
Located near the Calgary International Airport just off McKnight Boulevard NE, the Aero Space Museum is one of Calgary's top attractions. Founded in 1975 by former WWII pilots and aviation enthusiasts, the Aero Space Museum preserves and promotes the stories of people who contributed to the aviation and space industry in Western Canada. The museum celebrates the courageous spirit as the people behind the airplanes who soared above the earth and dared to reach for the sky.

Audio Link
Earlier this year TALKCalgary had the opportunity of meeting some of the people behind the Aero Space Museum as they outlined just a few of the greatest moments in Canadian aviation history. You can here that unabridged broadcast by clicking here.


Phone 403-250-3752, 4629 McCall Way NE, Calgary, AB T2E 8A5

---
Bow Valley Ranch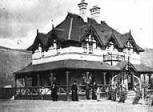 The Ranch House was built in 1896 by William Roper Hull, an aristocratic rancher. It was purchased in 1902 by Patrick Burns, one of the "Big Four" who financed the first Calgary Stampede. Next to the Ranch House, a visitor center covers 8,000 years of human history in the area.
403-297-5293, Fish Creek Provincial Park (south on Bow Trial)
---
Calgary Center for Performing Arts
Opened in 1985, the Center represents the utmost in modern performance space and encompasses the 1,800 seat Jack Singer Concert Hall, home of the Calgary Philharmonic Orchestra and Center programming; Max Bell Theatre, home of Alberta Theatre Projects; The Secret Theatre, home of One Yellow Rabbit; and the new, intimate, 185-seat Engineered Air Theatre for small productions, lectures and recitals.

403-294-7455, 205 - 8 Ave SE facing Olympic Plaza
---
Calgary Chinese Cultural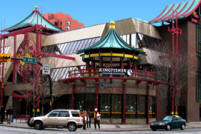 This is one of the largest cultural centers in Canada at 70,000 sq ft, Its great central dome, patterned after the Temple of Heaven in Beijing, is decorated with intricate tile work featuring a glistening golden dragon at the center, 60 feet above the floor. There is a museum and gallery devoted to a historical overview of Chinese culture, a gift store and a restaurant as well as classrooms, a library and meeting rooms.

403-262-5071, 197 1 Street SW
---
Canada Olympic Park
This world-class park located on the western edge of the city hosted freestyle, bobsleigh, luge and ski jumping events during the 1988 Olympic Winter Games. Summer luge rides (on ice!) are available June 24 to Aug 27.Drive up to the 90-metre ski jump tower and visit the observation level, the highest point in Calgary. Bungee jumping starts May 19, call 286-4334.Sunday brunch in the Naturbahn Teahouse, reservations required.

403-247-5465, 10 minutes from downtown
---
Calgary Zoo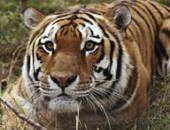 Established in 1920, the world-renowned Calgary Zoo, Botanical Garden and Prehistoric Park is located in the heart of the city. Discover more than 1,200 animals, including numerous rare and endangered species. There are also reptiles and amphibians, primates, exotic birds, an Australian and nocturnal complex and an African Bushveld section, Surround yourself with thousands of plants in the Botanical Garden. Explore the world of dinosaurs in the Prehistoric Park.

403-232-9300, 1300 Zoo Road NW
---
Calgary Tower
Downtown Calgary attraction. Spectacular view of Calgary and the Canadian Rockies. Revolving restaurant. Light meals in Tops Bar and Grill above Observation Terrace. Souvenir shop and snack bar on Observation Terrace. Banquet, wedding and meeting facilities.

101 - 9 Ave SW T2P 1J9 Tel: (403) 266-7171 Fax: (403) 266-7230
---
Devonian Gardens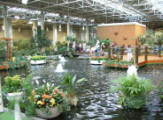 This is a 2.5-acre indoor garden in the heart of downtown complete with 20,000 plants of 138 local and tropical varieties, fountains, waterfalls, reflecting pools, bridges and a playground, There is a permanent art gallery and music recitals to enjoy.

403-268-5207, 4th flr, Toronto Dominion Square, 8 Ave & 3 St SW
---
Eau Claire Market
Unique marketplace by Prince's Island Park. Specialty retail stores, take-out food outlets, many popular restaurants, fresh food market, IMAX theatres, Open Year-round.

Tel: (403) 264-6450 Fax: (403) 261-3985
---
BirdInglewood Sanctuary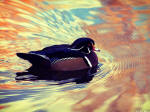 Occupying 32 hectares (79 acres) of riverside land first owned by Col. James Walker, one of the original North West Mounted Policemen in the area, the bird sanctuary was officially established in 1929, Its walking paths are open year-round. Approximately 266 species have been sighted over the years. Inquire about guided group tours to Calgary natural areas, nature courses on bird watching and wild flower identification.

403-269-6688, Sanctuary Road SE
---
IMAX Theatre
Come and experience IMAX films which capture the world's most awesome wonders on a 5 1/2 story screen. Fifteen thousand watts of IMAX Digital Sound completely surround your senses and put you in the picture.

403-974-IMAX, 2 Street & 2 Ave SW (In the Eau Claire Market)
---
Sam Livingston Fish Hatchery
More than 1,000 fish-producing lakes and streams exist in Alberta, containing 59 species of fish. Approximately 300 of these lakes are regularly stocked. Named after one of Calgary's earliest homesteaders, the hatchery opened in 1973 and is one of two fish hatcheries and two trout brood stations operated by Alberta Environmental Protection, Natural Resources Service. It produces rainbow, brook, brown and cutthroat trout. Public is welcome to take a self guided tour; book in advance for guided group tours.

403-297-6561, 1440 - 17 A Street SE (At Pearce Estate Park)
---
Southern Alberta Jubilee Auditorium
The "Jube" was opened in 1957 simultaneously with its twin auditorium in Edmonton to commemorate Alberta's 50th anniversary as a province (1905-1955), It houses a 2,713-seat concert hall, the 231-seat Dr Betty Mitchell Theatre, meeting and banquet rooms and rehearsal space. The auditorium is well-suited to dance, dramatic and orchestral productions.

403-297-8000, 1415 - 14 Ave NW
---
Spruce Meadows

This world-class show jumping center owned by Ron and Marg Southern is highly acclaimed in horse sports around the world. Besides maintaining excellent training and breeding facilities, the center hosts several major tournaments each year. Visitors may look around on non-event days free of charge.

Call 403-974-4200
---
Stampede
Each July, Stampede Park becomes the site of Calgary's famous Calgary Exhibition & Stampede. The rest of the year, the Roundup Center, Big Four Building and Agriculture Building host trade shows and exhibitions, the Olympic Saddledome holds concerts and Calgary Flames hockey, Stampede Corral hosts sports, and the Grandstand overlooks horse racing, Stampede Casino on-site.

403-261-0101, 17 Ave & 2 Street SE
---
The University of Calgary
The U of C is a vibrant university established in 1966. It has 16 faculties and more than 20,000 students. The Nickel Arts Museum, University Theatre and Boris Roubakine Concert Hall house arts activities. The Physical Education Building and Olympic Oval are open to the public (see Sports & Recreation). Free 90-minute guides tours available May to Aug

Events line: 403-220-3199, 2500 University Drive NW
---
T

elus World of Science - Centennial Planetarium
Science and technology attraction, Educational topics in audio-visual form. Exhibit gallery. Hands-on exhibits. Demonstrations. Traveling exhibits. Family entertainment. Planetarium Star Theatre and Pleiades Mystery Theatre, Laser shows.
403-221-3700, 701 - 11 Street SW