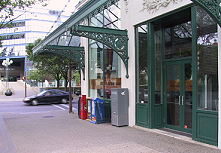 237 - 8 Ave SE

Situated across from City Hall downtown The Verve has become one of those trendy restaurants that people love to hang out at. Even more so since Brad Pitt made it his trough stop when he was recently filming here in Calgary and was seen dining there on more than one occasion. But is The Verve all itís hyped up to be?

As flavors of the months go The Verve down on 8th Ave S.E. is definitely up there. After all, this was the hang out of Brad and Angelina. With this in mind I decided to have lunch at The Verve last week. All I can say is that Brad and his good lady must have very low standards when it comes to dining out.

On the day I visited The Verve the place was virtually empty. However despite this, I had to wait almost 35 minutes for my over priced, under cooked pork tenderloin. But itís not just the food and service at The verve which are poor. The surroundings look worse than your average Dennyís.

By the time I left my total bill for lunch only with no desert was almost $25.00, not counting the tip, which owing to the worst service I have had in a long time I made $1.00.