The last time Guns n' Roses fans experienced new, original material created and actually presented by this classic band was back in 1991. This was with the release of the landmark double album 'Use Your Illusion I' and 'Use Your Illusion II'. Since that time, re-releases and the cover album 'The Spaghetti Incident?' have been the only material released.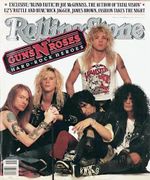 Photo Courtesy: Rolling Stone

When the '90s came around, Gn'R headed back into the studio to start work on a follow up album to their seminal debut 'Appetite for Destruction'. But from the start, rumors began to develop centering on the uncertainty of the band's future and a possible complete breakup and disintegration of the original lineup. They may have been a few years premature, but ultimately, one by one the band went their separate ways leaving W. Axl Rose as Guns' only original member. After having the rights to the name Guns n' Roses signed over to him, Axl formed a new incarnation of the band aptly titled the New Guns n' Roses. And from then on, set out to start work on an album of all new material to be titled 'Chinese Democracy'.

'Chinese Democracy' has been in the works now since 1997. For almost a decade, fans have eagerly awaited this new material that seems to have an indefinite release date. Axl Rose recently stated on 'Friday Night Rocks with Eddie Trunk', that the album would finally be released in Fall 2006 along with a North American tour. "People will hear music this year" has been his ongoing statement for the past decade with regards to this album. The release date is now rumoured to be November 13, 2006.

The question centering around the impending release of this eagerly awaited follow up to the 'Use Your Illusion' double album, is if in fact it will live up to or even exceed our hopes and expectations for it, or if it will fall flat and be seen universally as a disappointment to even loyal and dedicated fans of Axl. Music from this album was first publically heard on January 1, 2001 and since that time has been played at other shows, aswell as on internet and radio broadcasts, including the afore mentioned 'Friday Night Rocks with Eddie Trunk', which featured the song I.R.S as a demo for the album.

As for the other half, after solo projects and other creative gasps by the newly independent ex-guns', Slash, Duff Mckagan and Matt Sorum joined forces with former 'Stone Temple Pilots' frontman Scott Weiland and guitarist Dave Kushner of punk band 'Wasted Youth', to form the super-group 'Velvet Revolver'. 'Contraband' was released in June 2004 and debuted at #1 on the Billboard charts.

Rumors surfacing earlier this year about a possible summer reunion tour of the band with Slash and Duff have now also been shot down. The rumors first appeared when Slash was said to be leaving Velvet Revolver, who have now headed back into the studio to start work on their second album to follow 2004's 'Contraband'.

One things for sure though, Axl needs to release this album while people still care enough to buy it, it can only be 'eagerly anticipated' for so long before it is just seen as a constant disappointment and is labelled with the 'why bother?' mentality among even loyal, long time fans. Only time will tell what the future holds, along with the fate of Axl and Guns n' Roses as a whole however, if in fact they have one.