When it comes to finding your way around the in-car-navigation solutions found at the Apple App Store you will find almost as many point-to-point navigation systems as there are roads to use them on.  However, do your homework and you will also find that although the iPhone GPS world may indeed have many roads, it only has two major highways called Navigon and TomTom.
Now – you may feel that with only two GPS highways to go down, making an informed choice would be as simple as reading the reviews in the App Store, right? Wrong! Unfortunately, Apple's review system is about as reliable as the Kia Carnival. Or to put it another way, it's more abused than a Wal-Mart greeter. So with this in mind we decided to put the top two navigational road warriors to the test.
TOMTOM V.1.6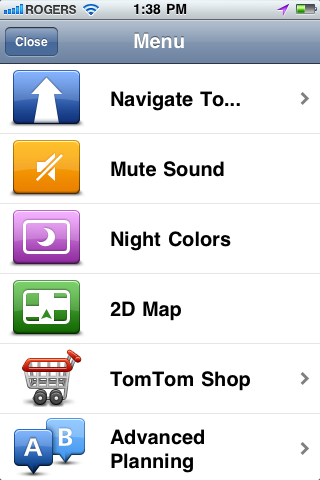 TomTom Has a history, unfortunately it's a bad history. How bad? Well lets just say that in the past TomTom could have been the cause of more driver profanity than the Detroit Parking Authority, and rightly so. In fact, until recently, TomTom GPS stunk worse than a builder's boots on a hot day. But recently all that's changed. Today the once shunned TomTom has found its way back from the GPS wastelands, turbocharged its core functionality, and got back on the road to success. 
USER INTERFACE
As you can see by the main menu today's TomTom is simple and laid in such a way that your 80 year old granny could find her way around without reaching for the user guide. Which is just as well since there isn't one. That said, if your granny is also a bit "gently bewildered" then you can always point her at TomTom's website which explains the meaning of such technical terms as Map, Address or Local Search.
MAP QUALITY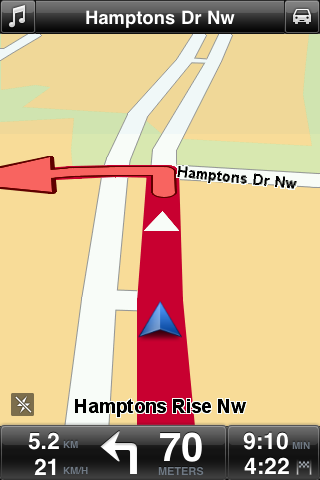 Like the user interface, the map layout on the TomTom is clean and simple. However, the TomTom map display does have two drawbacks that really do grind my gears. First is it's wimpy "next turn" information. This is displayed as a single line of sorry looking text at the top of the screen. Now it could just be me, but when you're traveling down  a six lane highway, in less than perfect driving conditions I want my "next turn" info in  BIG easy to read letters! Next is not so much the map display, but the map itself. You see, depending on which part of the country you're in TomTom's maps can be years out of date. Even when they are geographically correct we found them to contain incorrect road names. We asked TomTom product support about this who said, "We are aware that our maps have some errors and perhaps not as current as they could be, this is one of the reasons we introduced Map Share". In theory Map Share is a way for TomTom users to report map errors from within the application itself. However, when we tried to point out such an error using Map Share nothing happened, and that was several weeks ago.
For the good part TomTom maps are clutter free and come with a neat little feature that displays lane information when driving on the highway. This helps eliminate that last minute lane dancing game you sometimes find yourself playing when approaching an unfamiliar highway ramp.
TRAFFIC
Depending on where you live TomTom provides an additional "live traffic" service. Although this service comes at a cost it can be very useful allowing drivers to automatically reroute around traffic jams. Unfortunately TomTom provides no such service for anyone living in Canada.
OVERALL
Providing the place you are looking for is on the map then TomTom is excellent at getting you from A to B. It's easy to use, has great text to speech and packs a number of goodies such as intelligent routing technology which uses historical trip data to provide better route planning.
NAVIGON 1.7
After pulling all of its portable devices from the North American market, Navigon left many customers feeling somewhat bitter towards the European company. But while they are no longer shipping hardware to the US or Canada, Navigon has returned as one of the top providers of navigation software.
USER INTERFACE
Like TomTom the Navigon page layout is both clean and simple however Navigon allows for better customization of the user experience. That said, we found entering data such as an address was not quite as slick as it was on TomTom. We also found Navigon to suffer from a slight lag when moving between different screens. This lag is also present on the moving map display.
MAP QUALITY
Navigon has by far the best looking maps of any GPS currently on the market. But not content with that, Navigon recently upped the bar even further by introducing a 3D rendering package which provides an even more pleasant viewing experience. Unfortunately as far as Navigons maps go, beauty is definitely only skin deep. Here in Calgary we found Navigon's maps to be between 3 and 5 years out of date. Worse yet, unlike TomTom who at least provide "daily" map updates, Navigon map updates are extremely infrequent. We also found Navigon's choice of routes to any given destination to be temperamental. For example, on one occasion we asked it to find the fastest way to a local store less than a mile down the road. Navigon tried to take us on no less than a 21 mile detour! In our tests we also found Navigon frequently lost its bearings. When this happened it entered a "simulation mode" which locked up the unit. The only way to clear this was to close down Navicon, then re-open it and finally re-enter the original route, not something you want to be doing while driving down the highway. Like TomTom, if you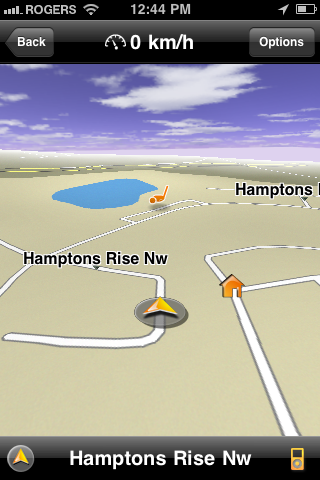 live in the US Navigon can provide speed warnings if you exceed posted limits.  Unfortunately also like TomTom this service is not available north of the border. Last but not least, Navigon also features real world lane change guidance. Unfortunately we found this also to be subject to some bugs which caused the information to continue to be displayed on screen far longer that it was needed.
TRAFFIC
Navigon's traffic information can only be described as terrible. Despite being a paid service we found their server to be frequently down and on the very rare occasions we were able to access it the information we found to be extremely inaccurate, routing us directly into a major accident and traffic backup.
OVERALL
If it worked Navigon would be a first class turn by turn navigation system for the iphone. The problem is at this point in time we found Navigon to be unreliable. Navigon also provides outdated maps which are seldom updated, and that for us is the real deal barker. After all, at the end of the day any navigation system is only as good as its maps. Last but not least, Navigon's traffic service is a joke and should be withdrawn from sale until such time as Navigon can provide the service they are charging for.
THE VERDICT
Bottom line is if you're a real estate agent or taxi driver who need a reliable GPS for day to day use and you need it today, go with the TomTom. If however you are prepared to wait for Navigon to resolve their current issues, then I would say they could well end up being the better system. 
Of course you could always just wait for Google to show everyone how point to point navigation should be done!
Steve Kelly is a British freelance broadcaster and photojournalist based in Canada.Contact Steve at www.stevekelly.net